Orthopaedist and trauma specialist at Northway medical centre in Klaipėda, the Head of the Department of Orthopaedic and Trauma Surgery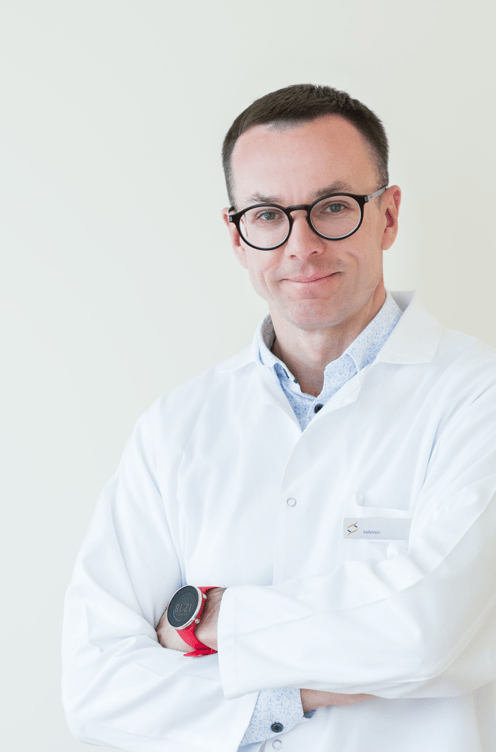 Professional activity
Professional experience since 2004. The doctor performs more than 650 surgeries every year.
He participates in medical conferences in Lithuania and abroad. He holds courses and delivers lectures at conferences in Istanbul (Turkey), Qingdao (China), Bangalore, Mumbai (India), Moscow (Russia), and other cities. He is a lecturer at Smith & Nephew PLC. Delivers theoretical and practical lectures in arthroscopy to medical specialists in London; invited to perform a live operation with live broadcasting in Moscow (Russia), Mumbai, Bangalore (India). He takes students from Ukraine, Russia, Latvia for internships.
Main fields of interest and professional activity
Common knee joint disorders (meniscus, tendon, cartilage tears, and injuries); shoulder joint (instability, rotator cuff injuries); elbow joint disorders (loose bodies, rheumatoid arthritis, inflammation); ankle disorders (cartilage, ligament injuries), and minimally invasive treatment methods (arthroscopy).
Memberships
The former president of the Association of Arthroscopy and Sports Traumatology of Lithuania (LASTA).
Education
2004: Orthopaedics and Trauma Sciences, the University of Health Sciences Kauno klinikos

2000: Internal Medicine Residency, Klaipėdos University Hospital

1999: Vilnius University, Faculty of Medicine
Foreign languages
English | Russian
Life credo
I try to reach the maximum level in everything I do. If you want to work efficiently and enjoy your life, you must leave your comfort zone and do what you have never done before. After you return to your comfort zone, you've got the feeling of having expanded your boundaries.
Hobbies
Cycling

Snowboarding

Yachting
Apuzes iela 14, Rīga, Latvija, LV-1046
+371 26 407 723 | +371 28 664 723